Jonkerbos War Cemetery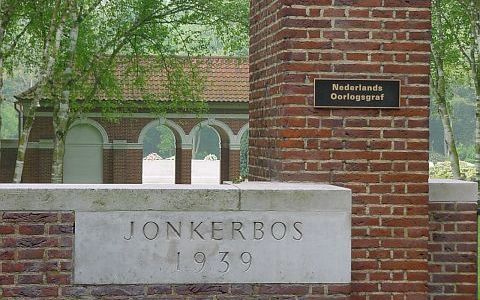 ingang Burgemeester Daleslaan 35, Nijmegen
Adriaan Slob
(1918-1945)
"One strange event had happenend since our last visit to the cemetery. The headstone of Lt Adrian Slob had changed from a Grenadier headstone to that of the Royal Netherlands. Lt Adrian Slob had fled Holland with some Jewish boys in a boat. In England he was accepted into the Grenadier Guards. He commanded a platoon of the 1st Bn at the battle of Nijmegen wich is mentioned in Major Stanley's account of the battle. The confusion is, was he a Grenadier or a Dutch Liason Officer? If he was the latter would he have been a platoon commander and worn the dress of a Grenadier? He was in fact killed in a road traffic accident in Nijmegen the following year, in 1945, and buried as a Grenadier. His grave has had a Grenadier headstone for 58 years. His family, who were part of our group, had travelled from Switzerland where they now live. They were distressed by the event as they had not been informed."
Major Frank Clark in Grenadier Gazette 2005
Casualty Details
Name:
SLOB, ADRIAAN
Initials:
A
Nationality:
United Kingdom
Rank:
Lieutenant
Regiment:
Grenadier Guards
Unit Text:
1st Bn.
Date of Death:
23/02/1945
Service No:
306838
Awards:
M C
Additional
information:
Son of Mr. and Mrs. A. Slob, of Sneek, Friesland, Holland.
Casualty Type:
Commonwealth War Dead
Grave/Memorial
Reference:
18. A. 4.
Cemetery:
JONKERBOS WAR CEMETERY
Bron: Commonwealth War Graves Commission
The Military Cross (MC) is a decoration awarded to commissioned and warrant officers (normally captain or below) for distinguished and meritorious service in battle. Instituted on 28 December 1914 as a means of formally recognising the courage of junior officers during wartime (officially for "gallantry in the field" for Captains and below).

"GREATER LOVE
HATH NO MAN THAN THIS
THAT A MAN LAY DOWN
HIS LIFE FOR HIS FRIENDS"
Slachtofferregister

---

Achternaam
Slob
Tussenvoegsels
Voornaam
Adriaan
Voorletters
A.
Rang
Res. 1e Lt.
Mil. Onderdeel
1st Bn. Grenadier Guards
Onderscheiding
Geboorteplaats
Bussum
Geboortedatum
05-07-1918
Overlijdensplaats
Nijmegen
Overlijdensdatum
23-02-1945

---

Begraafplaats
Jonkerbos War Cemetery
Gemeente
Nijmegen
Provincie
Gelderland
Land
Nederland
Vak
18
Rij
A
Nummer
4
2005
2007
Bron: Oorlogsgravenstichting
"(...) Arguably, this officer had a bigger influence over the success of the battle for the bridge at Nijmegen than any other single person, and yet little credit or recognition is given to his commitment to see his country rid of the German invader. Plaques are erected in and around the City of Nijmegen for events of far less importance that that achieved by Lieutenant Slob. He lies at rest among his British friends and colleagues in the war cemetery at Jonkerbosch, the only Englandvaarder to do so. His headstone records at his death that which he could not achieve in life, he was a true Grenadier."
Jack Pritchard, Seven Years a Grenadier 1939-1946, Rushden 1999